2015 NCPreps Pre-Season 2A All-StateTeam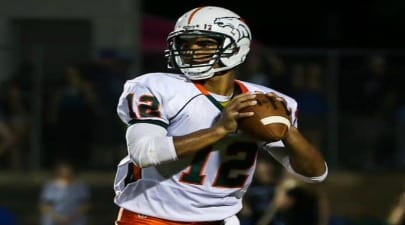 NCPreps will be announcing their Pre-Season All-State teams, starting on Monday with the 1A Division. We will then be announcing the 2A on Tuesday, 3A on Wednesday, and 4A on Thursday.
Continue to follow us throughout the week as we will be announcing each team at noon on each day.
NC Preps 2A ALL-STATE
OFFENSE
QB Chazz Surratt (East Lincoln)
RB Cody Reece (Mt Pleasant)
RB Ryheem Skinner (Clinton)
WR Maison McNeill (Ashe County)
WR Sage Surratt (East Lincoln)
WR Jayden Borders (Shelby)
OL Daronte Riddick (Northeastern)
OL Wyatt Burnette (Franklin)
OL Brock Wright (Maiden)
OL Cam Moye (Ayden-Grifton)
OL Neill Jennings (Washington)
DEFENSE
DL Trevor Tetstone (E Randolph)
DL Jimmy Taylor (SW Onslow)
DL Kori Reid (Goldsboro)
DL Mike Golden (Reidsville)
LB Lexroy Brown (Washington)
LB Brett Nicholson (Farmville Central)
LB Dax Hollifield (Shelby)
DB Kyle Tatum (East Bladen)
DB Desmond Robinson (Monroe)
DB Davonte Rountree (Northeastern)
DB Tykel Landrum (Hendersonville)
SPECIAL TEAMS
K Drew Eudy (Hendersonville)
P Jared Williams (Pasquotank)
KR/PR Daniel Graves (Graham)
ATHLETES
ATH Jaron Letterlough (E Randolph)
ATH Julius Caulder (Fairmont)
ATH Ricky Person (Franklinton)
ATH Jamie Newman (Graham)
ATH Tre Wade (Greene Central)
ATH Jamal Wheeler (Polk County)
PRE-SEASON 2A PLAYER OF THE YEAR
QB Chazz Surratt
East Lincoln