2022 NCPreps Pre-Season All-State Football Team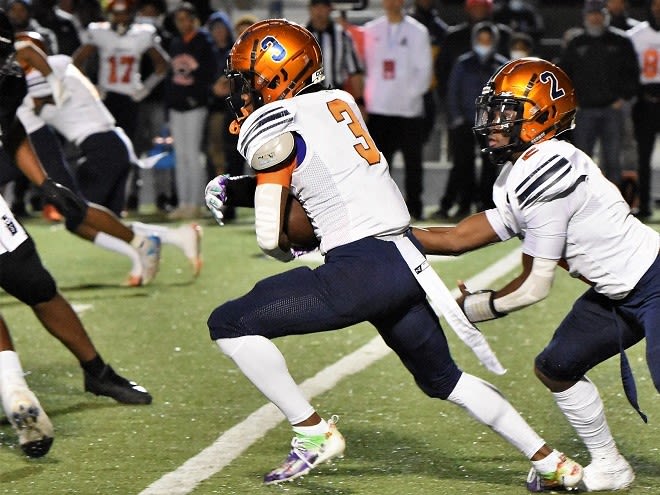 NCPreps.com is pleased to announce their pre-season all-state football team for the upcoming 2022 season. Voting was done by head high school football coaches from all over the state that participated in the publication.
At the time of the 2022 NC Prep Football News Yearbook went to print, running back Daylan Smothers of West Charlotte High School was voted pre-season player of the year and all-state by the coaches. But he is currently ineligible pending an appeal, which had not been determined at the time we went to print
Here are the selections for offense, defense, athletes, and special teams.
2022 NCPREPS.COM PRE-SEASON ALL-STATE TEAM
OFFENSE
QB – Daylin Lee, Sr. – Shelby HS
RB – Daylan Smothers, Sr. West Charlotte HS
RB – Marqies McCombs, Sr. – Chase HS
WR – Noah Rogers, Sr. Rolesville HS
WR – Kevin Concepcion, Sr. Chambers HS
TE – Javonte Vereen, Sr. Havelock HS
OL – Sullivan Absher, Sr. South Point HS
OL – Samuel Pendleton, Sr. Reagan HS
OL – Connor Drake, Sr. Providence HS
OL – Darrion Rivers, Sr. West Charlotte HS
OL – Kamen Smith, Sr. Wilkes Central HS
DEFENSE
DL – K.J. Sampson, Sr. New Bern HS
DL – Jamaal Jarrett, Sr. Grimsley HS
DL – Tyler Thompson, Sr. Panther Creek HS
DL – Daevin Hobbs, Sr. JM Robinson HS
LB – Jaybron Harvey, Sr. Southern Durham HS
LB – Ben Cutter, Sr. East Lincoln HS
LB – Cahari Haynes, Sr. Burns HS
DB – Taivon Derisma, Sr. Chase HS
DB – Noah Gist, Sr. Lexington HS
DB – Brock Adams, Sr. Robbinsville HS
DB – Daunte Hall, Sr. East Duplin HS
SPECIAL TEAMS/ATHLETES
ATH – Christian Hamilton, Sr. Hickory Ridge HS
ATH – Chris Culliver, Sr. Maiden HS
ATH – Jonathan Paylor, Jr. Cummings HS
ATH – Tamarcus Cooley, Sr. Rolesville HS
ATH – Rico Walker, Sr. Hickory HS
K – Nolan Hauser, Jr. Hough HS
P – Chad Giarrusso, Sr. Mitchell HS
KR/PR – Shamar Sutton, Sr. Northeastern HS
LS – Weston Sharpe, Sr. West Brunswick HS