Campers' Thoughts on the VTO Sports Elite 100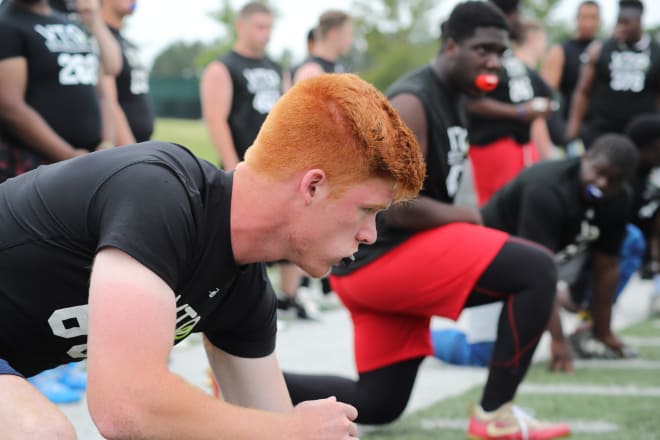 With close to 200 prospects coming from all parts of the United States and Canada, the VTO Sports Elite 100 was another successful event in my eyes. I have been a proud supporter of the VTO Sports combines since the beginning and they always provide great instruction/techniques to the campers. Although, most will not come away with a "top honor" award, the goal of these combines are to make the student-athlete better on and off the field.
NCPreps.com had a chance to speak to several the campers on their VTO Sports Elite 100 experience and any recruiting updates.
QUARTERBACK MVP - Todd Shelley - 2018 - Lampeter HS (PA)
"I really enjoyed the camp. It was a great opportunity to compete and show my skills. As far as interest, I've taken junior day visits to Dartmouth and Bucknell. I've talked to a few other schools through email mostly. Ill be visiting more schools this summer for prospect camps."
RUNNING BACK MVP - Anajai Lewis - 2018 - Colonial Beach HS (VA)
"The VTO Elite Sports Camp was a lot of fun and it was a very competitive camp. Stevenson University and Yale has been showing love."
WR Daylan Felton - 2018 - Northern Durham HS (NC)
"I felt like the VTO Sports Elite Camp was a great opportunity for me to showcase my talents especially in a local setting. I feel like my performance was just a little preview for the show I plan on putting on this year. I have talked to Penn, Princeton, and Harvard."
OFFENSIVE LINE MVP - Amir Franklin-Branch - 2018 - South River HS (MD)
"The camp was amazing. All the coaches wanted to help and only wanted to see me be successful. It was a ton of competition out there and an overall fun time. Recruiting-wise, I have an offer from Morgan State University and interest from Howard, Monmouth, Towson, and Delaware."
DEFENSIVE LINE MVP - Ryan Edwards - 2018 - Mount Airy HS (NC)
"I was very happy with the camp. I learned a lot from the coaches at my position. I felt like it was a great camp. It has been the best camp I've been to. Thank you VTO Sports!! As far as recruiting, I've been in contact with Wingate. That's really it. Every school I've had the chance to go to or talk to has complained about my weight. I've been on NCSA and I feel like it's a more effective way to get your name out there and talk to college coaches."
VTO SPORTS SLEEPER AWARD - WR Eddie Ogle - 2018 - Liberty Christian HS (VA)
"I loved the camp and thought it was ran very well. I've only had a couple schools interested in me like Yale, Davidson, and Brown so far."